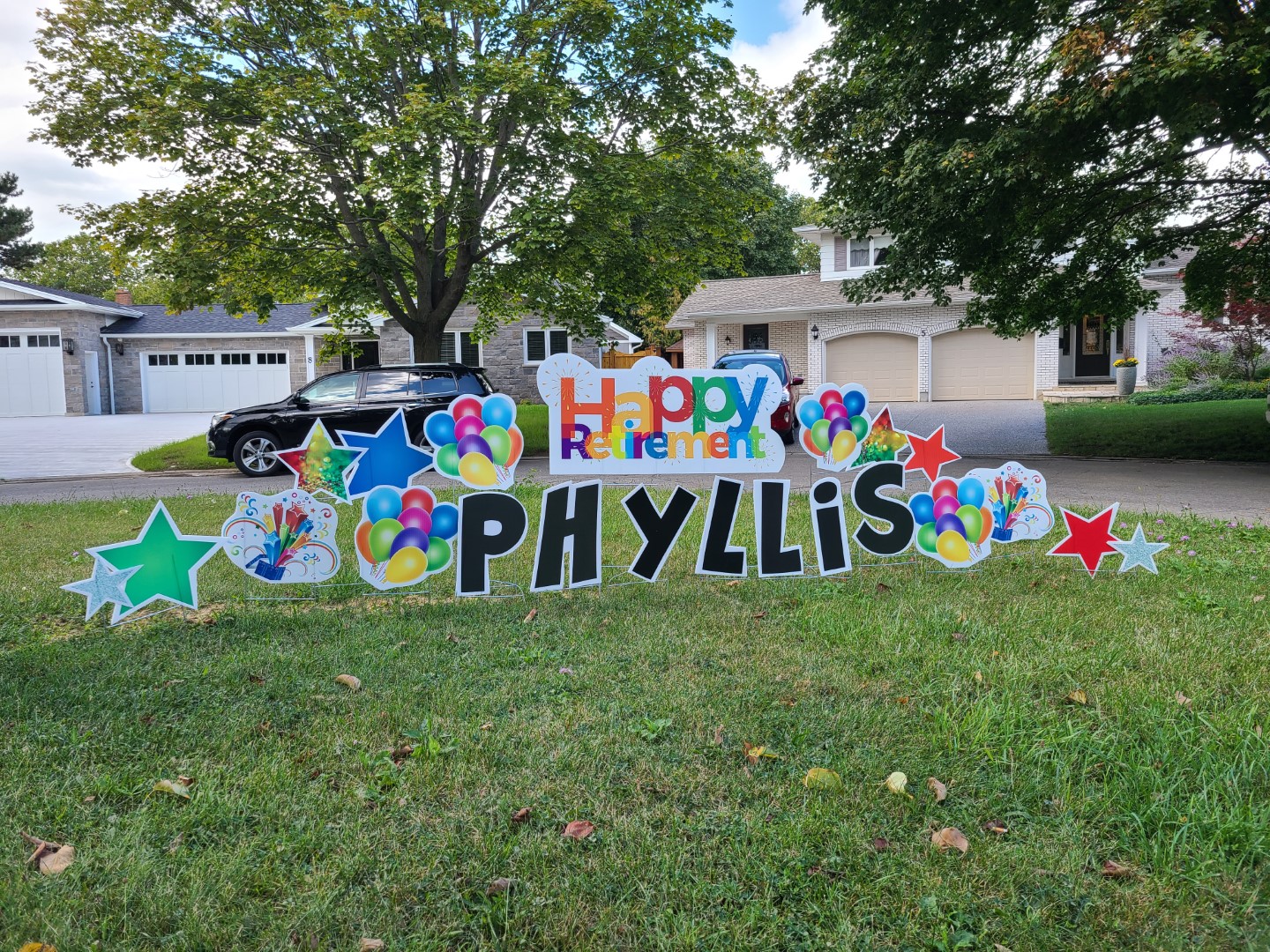 They say in real estate that if you want to get busy, plan a holiday and if you want it to rain, plan a party. That maybe sounds a little pessimistic and it may not always be true, but that was the case for the retirement party we scheduled on Thursday, September 9, 2021, for our beloved manager Phyllis Gleeson. Held between 2 and 5 p.m. the skies opened up at precisely 2:00 p.m. and it rained pretty much through to the end.
Fortunately, we were prepared with a big tent set up in the backyard of our Broker's home and umbrellas available for a run from the tent to the bar and back.
I should say that in spite of the rains the party was by all accounts a huge success. The last time we had an actual party was back in March 2020 just as COVID-19 was becoming a threat to life as we knew it. That was the occasion of our Awards Gala. 18 long months have passed since, and for people who love to get together and socialize, it was a long abstinence. So, when the restrictive sanctions with COVID were lifted to the point that outdoor gatherings of up to 100 people were allowed we decided to take advantage.
Although Phyllis had been technically retired for almost 4 months, a lot of agents hadn't had an opportunity to express their appreciation to her and wish her well. So, weather notwithstanding we had an excellent turnout.
In order to allow our support staff to participate, we closed our offices that day at 2:00 p.m.
The site of the party was actually at the end of a court. Just in front of the house is a circle of land owned by the city and that was the ideal spot for a yard card to announce the event. Nobody entering the circle had any doubts about what was going on.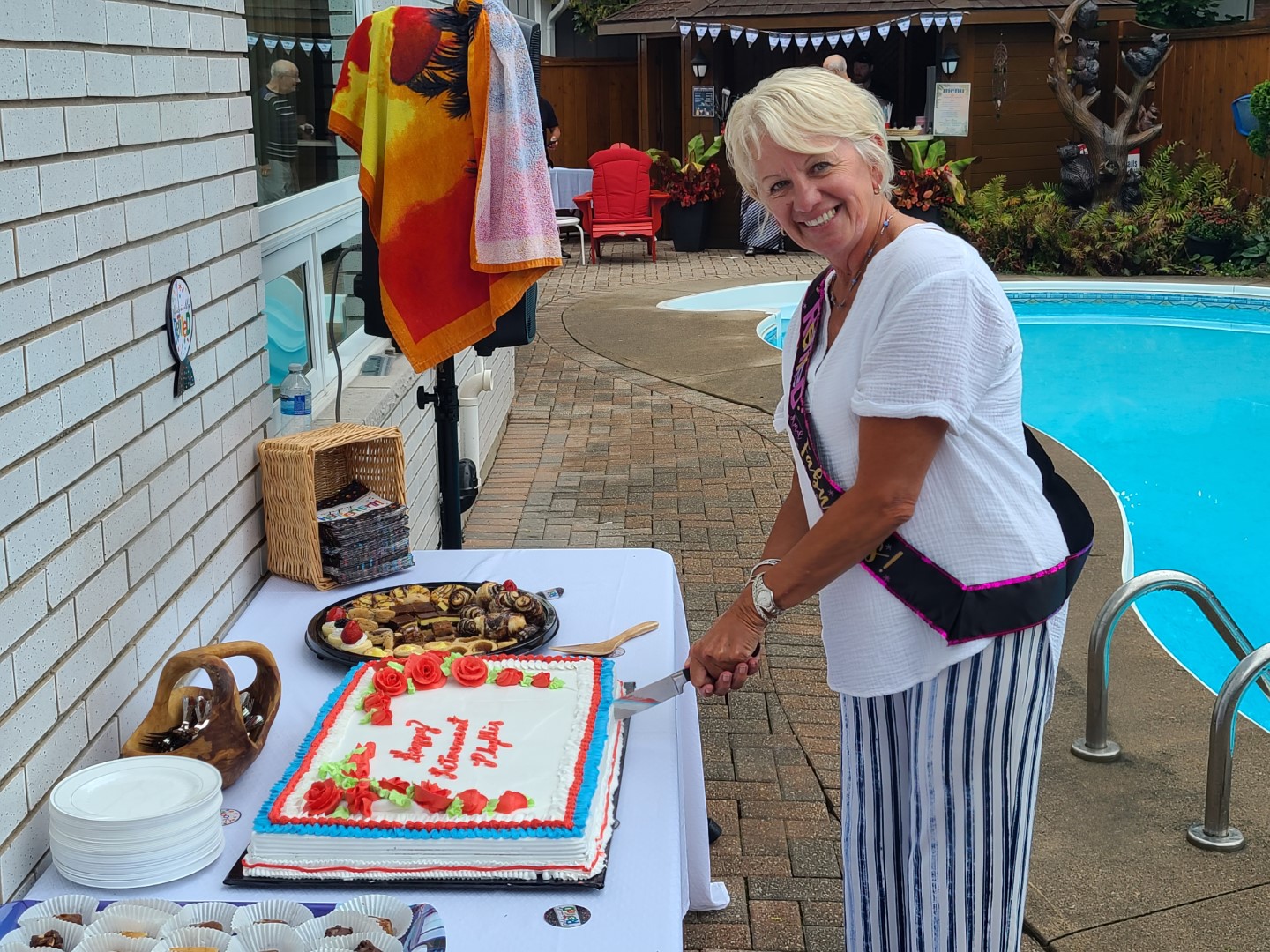 The party was catered by Chef Darren Stoute of Stoute Catering. The first time we've used their services and definitely won't be the last. They managed to dodge the rain and man a couple of food prep stations, personally mingle and serve our group an amazing charcuterie table, grilled vegetables, sliders, and BBQ spare ribs to name just a few of the many delicious items. The pool bar was stocked with everything imaginable and a grand selection of desserts was on hand, of course, along with a cake to celebrate our Guest of Honour Phyllis.

Music was prepared and provided by our own very talented IT director Jim Holiko. Along with his expertise in things electronic he has a passion for both photography and music. He sings, participates in a band and is an occasional DJ as well.

And a special word of appreciation is due to Deb Quirk, our Corporate Administrator who not only hosted the party but also worked tirelessly on a thousand details to ensure that the party was a success. We are blessed to have dedicated and talented people within our organization who are always willing to give of themselves.
Of course, as we've mentioned before, Phyllis' retirement has given her the freedom of life without fixed hours, but she still maintains connections with RE/MAX Garden City Realty as a licensed agent and of course a willingness to be available to chat, visit or have lunch with her many friends here at the office.

So the party wasn't really a "goodbye". It was a celebration and an expression of love and gratitude. As an event, it was a party that was long overdue with a purpose that everyone could identify with; the buzz, the networking, the laughter, the food, and drink created a wonderful time in celebration of a wonderful lady. Nobody even noticed the rain.