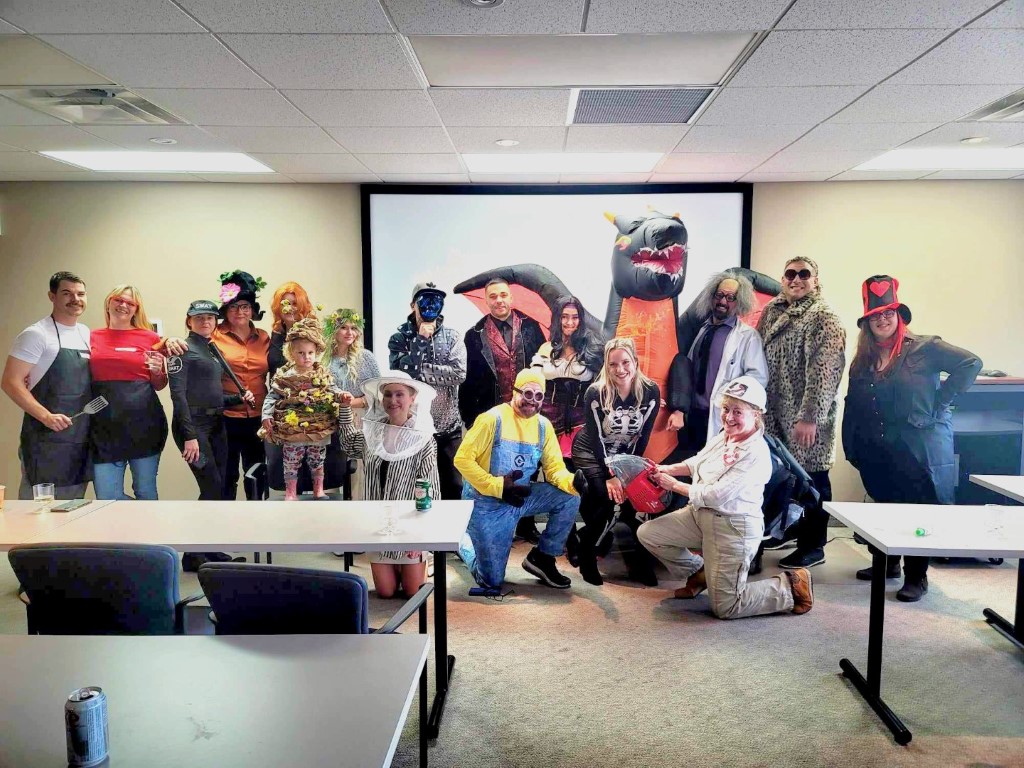 It's a long time between our end of summer Broker B.B.Q. held each year near the end of August and our year-end Christmas Gala, well, near Christmas. Four long months. That's a long time between parties and socials.

Fortunately for us, right in the middle of this four-month time span is Halloween. October 31st to be precise.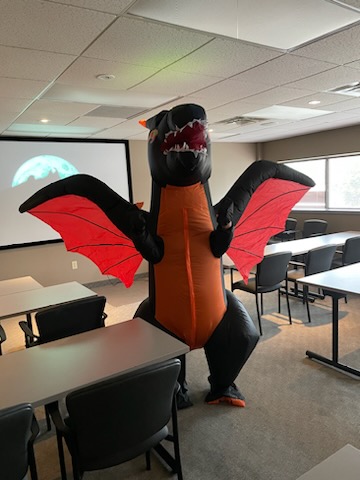 This year we decided to change up the format a bit and make it a potluck. I mean, after all, we have a number of good cooks within our ranks. So, in addition to a party, a chance to dress up and act out a bit. This promised to be an event featuring some very fine eating.

Under the operational guidance of our Administrator, Deb Quirk, agents and staff alike were contacted to see who was coming and what each would bring. After all, we wouldn't want to end up with 50 desserts and no main course.

To our delight, there was a great deal of interest with almost 60 people committed to come, most with specialty dishes on hand and many in costume for the event.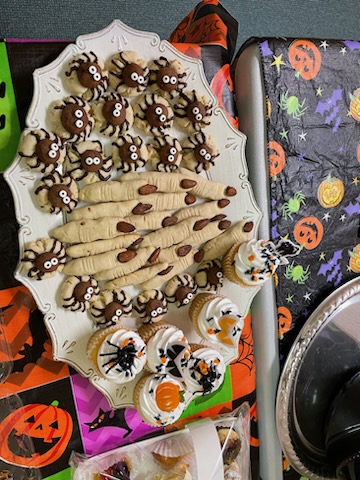 The party itself was held in our 50's diner with overspill going into our adjacent training centre. After all, each only holds about 46 and we had well over that committed to participate.

In addition to arranging the food, and in anticipation, lots of dishes, cutlery, and chaffing dishes, the diner and general admin were decorated to the max. Spooky indeed. Thanks, Deb, for doing such an excellent job.

It was decided that prizes would be given out for both the best and/or most creative costume and also the most interesting dish based both on presentation and taste. There would be two prizes given for each category. Judges were Phyllis Gleeson, interim manager, and Marg Vail, longest-standing agent of the firm. No simple task with well over a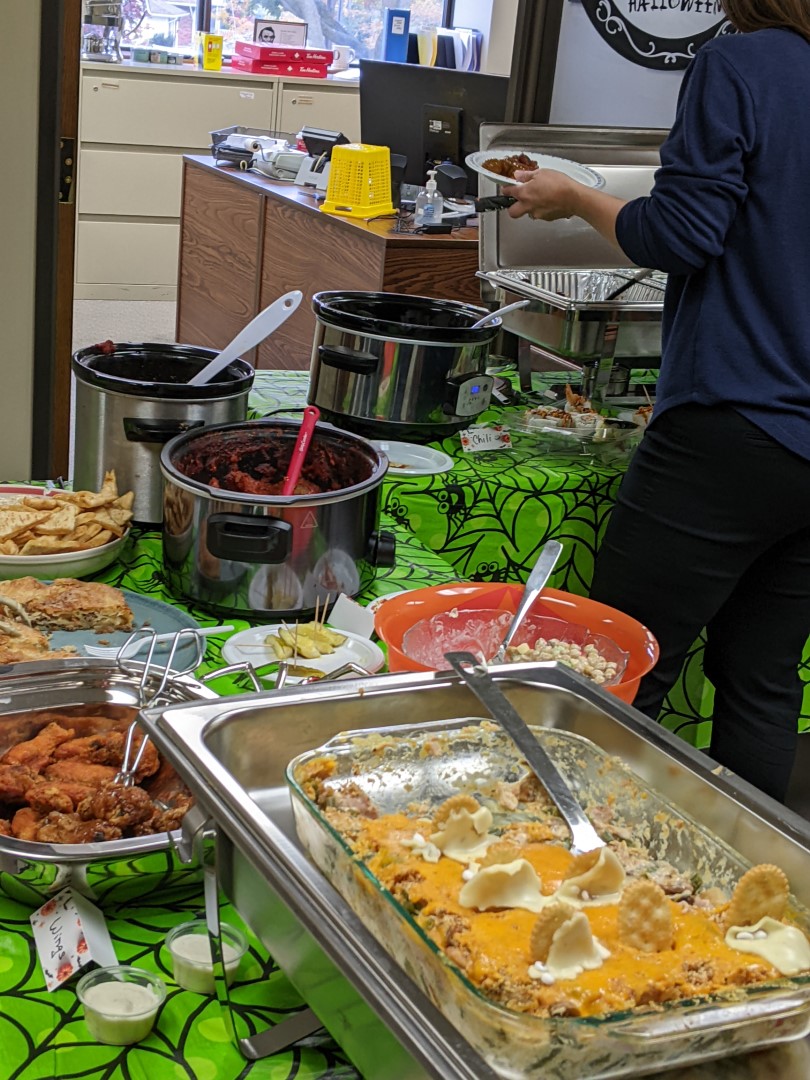 dozen unique costumes and literally dozens of amazing dishes to choose from. Somehow, they managed to make their choices. Always hard when there were so many creative costumes, innovative ideas, and spectacular dishes. Always a challenge when literally everyone participating deserved first place.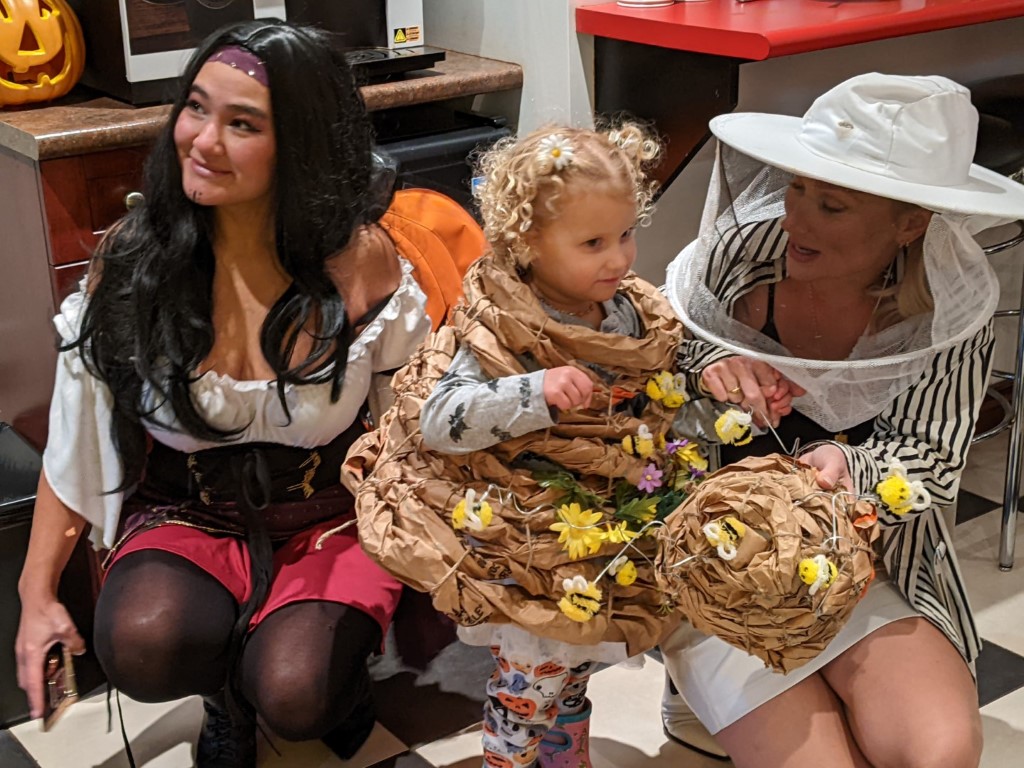 One of the side benefits of so much great food is that the very next day, November 1st, we were holding a training session in the training centre with lunch provided. Along with the sandwiches brought in the participants there enjoyed a continued feast of Halloween leftovers.

Judging by the number of people who came out the way everyone looked and how everything tasted, I've got to believe we were overdue for a party. Regardless of the event, the guys and gals at RE/MAX Garden City always enjoy an occasion to get together and socialize, interact, and just have a good time. Enjoy the pictures.